Discover in our review of VINchain what problems the team are looking to address and how the are planning to do so.
Learn whether the project is heading in the right direction or is one to avoid…
Before you start…
We've put together a list of top cryptocurrency recommendations for our readers:
Click here to see our top cryptocurrency recommendations for 2018
VINchain Review
Built on the idea of the blockchain, VINchain is a market placement for used vehicles. Its main focus is to provide a complete history by having a record of all the vehicles thereby allowing participants to be in a position to purchase history reports using either VIP tokens or Fiat. The VINchain project is meant to unite all the data providers and give out complete vehicle records without the disadvantages of having a decentralized database. By contributing to the repository data, consumers can greatly increase the value of their vehicles. By allowing you to store your VIN data on blockchain you are assured of having a complete data invariability.
What problem does VINchain address?
According to VINchain review, It solves the problem of asymmetric information of used cars by creating a decentralized, enduring, reliable, transparent, and secure vehicle lifestyle repository. As the world's first non-automotive information, the aim of the team is to ensure that there is transparency in the vehicle reports. It's aimed at creating blocks with different levels of information and protection. It also brings together participants in the motor vehicle industry such as dealers, insurance companies, developer navigation system, and workshops into a single ecosystem for the sole purpose of data interchange.
It's aimed at creating an infrastructure and offer direct access to the database for each participant. In a nutshell, it's aimed at providing a comprehensive report on the cars' history and allow users to buy a car report using VIN or Fiat token. The earnings will then be shared between the VINchain of participants and the platform. This history is not only clear but also affordable for everyone. To protect the accuracy of the data, the platform uses distributed storage technology. This ensures that there is security and reliability of the information stored.
It also plans to attract global consulting firm audit system which will give their opinion on their services and provide reliable data. After conducting a survey of the insurance companies, car dealers, rental companies, and banks they realized that they all require an operating history that's both accessible and reliable. It's, therefore, clear that this technology can be extended to different segments such as yachts, boats, construction machinery, airplanes and real estates.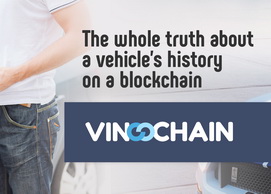 VINchain Key features
Find your car VINchain app- This app can collect all the information about your driving style and suggest for you ways that can help you drive more economically so as to protect your vehicle and help you save on the gas. You can also share this information with your insurance company and lower your premium by up to 30 percent.
Statistics driving styles- It will collect the vehicles behavioral data and usage thereby helping you to understand your driving style and how you can save by driving more economically. This is very important when it comes to getting discounts and services on the things that are interest and relevant to you.
Discounts on services such as refueling, maintenance, and washing
Diagnostic data – By using this device, you'll be able to know the performance errors and the health of your vehicle. This means that every time you get into your car you can rest assured that your car is safe.
VINchain Future Roadmap
February 2017 – This is where the creators are studying whether blockchain technology can be used to collect information and developing the first prototype.
October 2017 – The approval of the concept and the white paper. It involves gathering feedback from the community and the development workflow based on the data.
November 23, 2017 – Presale signs for early-stage investors.
December 1, December 24, 2017- Pre VINchain ICO. This is planned to be held from December 1 to December 24, 2017.
March 2018 – MVP testing
March 22, 2018, to April 15, 2018 – ICO launch and the selling of tokens
April 16, 2018 – The end of the procedure
April 20, 2018 – Product optimization, development, and finalization of the work.
Team Members
The team that created this platform has years of experience in automotive industry. Alex Mils, CEO and the marketing strategist has implemented strong marketing campaigns. The team is widely spread across the internet to provide any information that you may need. Their website is not only impressive but well-built as well. The company has armed itself with advisors, entrepreneurs, and great thinkers such as Ryan Scott. The VINchian team is, therefore, a capable team. There are also other team members who you can trust to invest your money with.
Conclusion
Information is not only important but providing it makes it easy to make a decision. VINchain is aimed at creating a platform that can benefit anyone. It helps to solve the problem of asymmetric formation. All the information recorded is reliable and secure. The VINchain.
Before you leave…
We've put together a list of top cryptocurrency recommendations for our readers:
Click here to see our top cryptocurrency recommendations for 2018